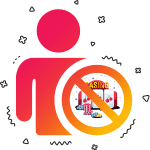 To help players avoid rouge online casinos, we have set up an online casino blacklist.
Below we explain further which casinos you cannot trust and for what reason that is declared. Online gambling should be a safe, fun and overall, great experience. And that's why we want to help you make the right choice. For a safe journey, be sure to check out our best online casino list as well!
All Online Casinos on Our Blacklist
These are the online casinos that we suggest that you avoid. Please note that this list is updated every time that we come across a not-to-be-trusted casino operator or get an insight from fellow experts or players about a casino that should be blacklisted.
Zodiac Casino
This online casino has put itself on just about every blacklist all over the internet. Zodiac casino has a Kahnawake casino license, bad bonus conditions and their players have many reasons not to be happy about them. We gave them a try but ended up with a bad first experience. This is not what a reliable casino should be like.
Ikibu Casino
Ikibu Casino sends a lot of spam to their players and is known for not paying their players in time (or at all). In addition, it is difficult to reach their customer support. This is reason enough to blacklist the casino so that no one ends up playing there.
Mr Ringo Casino
Mr Ringo has been blacklisted by many casino experts. Not only by us but also by Askgamblers for instance. This is mainly because they do not handle their customer complaints. Most of the complaints that came in have been about non-fulfilment of payouts. We suggest that you stay away from Mr Ringo Casino.
24 Monaco (Previous LeoMonaco)
This is one of the online casinos targeting gambling addicts in the UK. This casino has even been reported to the authorities for suspected fake slot machines. With this in mind, we have decided to put this casino on our blacklist.
Harry's Casino
Harry's Casino sounds friendly, but don't get fooled. Just like 24Monaco Casino, this casino cannot be trusted. And ends up on our casino blacklist for the same reasons.
Ridika Casino
Ridika Casino gave us a terrible experience. This casino has been added to the list for more than one reason. We tested it due to to the fact that it had plenty of warnings from other casino comparison websites, and unfortunately had to confirm what we read. To date, we still get spam from them even though we closed our player's account.
Casinoin
There are a number of reasons why Casinoin is blacklisted. Namely, because they receive many complaints from customers. Due to all the bad reviews and negative comments from players, we have decided that this casino is on our blacklist. Better safe than sorry in this case. And I have to admit that we didn't even bother trying it out…
Casino 765
Not only is this online casino bad for their players, they also don't pay their gaming providers according to rumours. They do not take well care of their players and that is one of the many reasons that this casino has been blacklisted.
Casino Pop
If you haven't heard it yet, we'll make it clear. Casinopop is completely closed and has not paid its players, employees or providers. This is one of many sites that were newly emerging, unprepared for the ramifications of running a business. It is best to stay away from this online casino or other operations under the same name, which is why this casino has been blacklisted.
Luckland
This is not a fraudulent online casino. It simply feels old-fashioned and really out of touch. We tried it out, but it was a website that we're just not a big fans of. We always want to offer the player a modern website, where everything is completely optimal. Everyone has their own taste, this might simply not be for us.
WinningMillion Casino
With a mountain of unresolved customer support cases and a shortfall in payouts, this is an online casino that we want you to stay away from. Gambling does not feel safe here and this is one of the sites where you lose track. Whether it's a bonus, payout or dissatisfaction, the casino should always be there for you. Not the case here, Blacklisted!
Barbados Casino
This online casino is not safe. They don't pay out money, and operate in jurisdictions they don't have a license for. Enough reason to put Barbados Casino on the blacklist as well. Casinos that don't pay out are enough reason not to visit them. So stay away from this casino!
Betmaster Casino
Betmaster Casino has given us a terrible experience for many reasons. This is especially in regards to paying out money. After a while, we gave up and had the profit cancelled. We'll obviously never come back. This casino is now on the blacklist.
Why do We Blacklist an Online Casino?
Here is an overview of all the reasons why we decide to blacklist online casinos.
Unpaid winnings
One of the most frustrating reasons to blacklist an online casino is when they don't pay out money. You are of course gambling for fun, but also to withdraw some nice winnings. If a payout is not met, this is really an alarm bell that you should listen to.
Manipulative Games
This is when casino games do not follow a Random Number Generator or are manipulated. It happens especially at online casinos that do not have a license. Always look for a licensed casino so you don't end up on sites with manipulative and fake games.
Misleading Advertising
Misleading advertising that may promise you all kinds of bonuses/advantages and doesn't deliver. Always read the bonus conditions carefully, so that you are sure that it is not misleading advertising. If you come across an online casino with misleading advertising, let us know right away. In this way, we can always put these online casinos on the list of unreliable casinos.
No Responsible Gambling Tools
Gambling addiction is no joke and of course, we always make sure that the online casinos that we list do have the right tools in place. A licensed casino will always have gambling prevention and that is why we recommend that you pay particular attention to this. For example, the MGA License, which is very reliable and ensures that you can set your limits and get the right help if necessary. Read more about the topic in our stop gambling article.
Casino Shuts Down Without Paying Out (Providers and Affiliates)
Money is always a touchy subject and especially when it comes to payout failures. There are cases when a casino has shut down all of the sudden and decided to not pay its suppliers.
Constant Complaints
If there are multiple cases where the players have not received professional service, it's often not due to coincidence or bad luck. Even the best casinos might sometimes respond a little later, but that may be due to human error. Online casinos must always take well care of their players and handle customer complaints accordingly.
Casinos That Don't Pay Out
Maybe the most common reason why online casinos end up on our Blacklist, unfortunately. There are online casinos that simply do not pay out customer winnings. If that ever happens to you, make sure to contact your casino guide so that they or we can blacklist them as soon as possible. On the other hand, there are best payout casinos that not only payout, but also offer games with the highest possible RTP.
Play At Safe Online Casinos
Most online casinos are safe, fun and licensed indeed. Always make sure that the online casino where you play is not in the above overview. There are so many great online casinos to play at after all. Gambling should be a pleasant experience and a customer support department should always be there for you.
We truly hope that you have not chosen a casino from our Blacklist. But if you have, make sure to quit playing there as soon as possible and find a new online casino that is safe and fun.
Last Updated on November 23, 2021 by Max Deranker