So we're all aware of the extremely cool stuff going on in the Metaverse at this very moment and are happy to be the first online casino guide to cover the topic of Metaverse casinos, or Decentralized casinos as they are also called.
This will be a quite comprehensive article that covers the whole topic of how they work, how to get started, the perks and the pitfalls. As Metaverse casino is something that is in fact completely fresh out of the oven, we will be updating this article as we go so let's get to it!
What is a Metaverse Casino?
A Metaverse casino is a virtual casino within a metaverse such as Decentraland that is interactive for its players and played with cryptocurrency.
The casino is often located in a Metaverse form of a popular land-based casino and operates very much like one. It allows its users to interact with each other, play casino games together and gamble.
The players can use a range of tokens to gamble such as DAI, MANA, ETH or similar. In order to play with these tokens, gamblers first need to convert real money from fiat to the given token.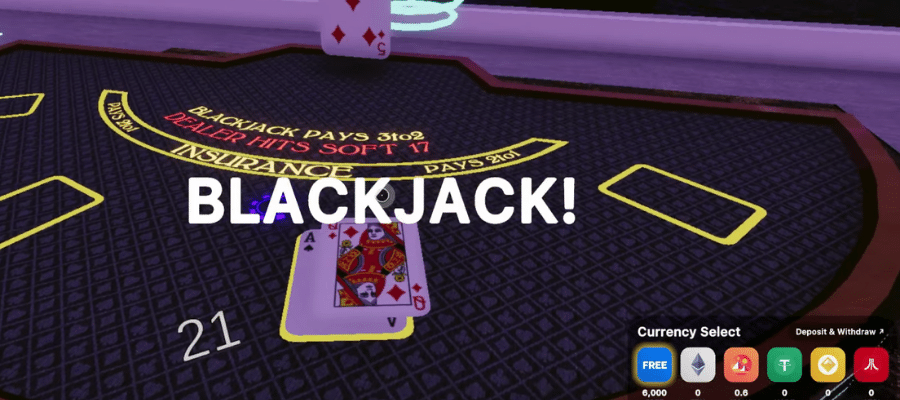 Decentralized Casino Games to Play
As the whole idea of decentralized casinos is to be a Metaverse option of traditional land-based casinos, there is a big variety of casino games to play:
Slots
Roulette
Blackjack
Backgammon
Lotteries
Dice games
What happens is that you create your own character and walk around in the casino and choose what you want to play in a social environment with other players.
Wearable NFT's
While walking around in the Metaverse casino to pick the games that you want to play, you can even do so with wearable NFT's which is pretty cool. The NFT's can be purchased on marketplaces such as Opensea or won at the casino.
Play to Earn Casino
Play to earn is something completely unheard of among regular online casinos. For those that have been involved in cryptocurrency for some time, however, play-to-earn games are pretty standard.
Decentralized casinos give you the option to play in order to earn their own tokens. As decentral.games for example, where you earn up to 50% of your expected losses back in their own token $DG.
You can then decide what you'd like to do with that token: either buy wearables, stake to earn even more or vote in the DAO to become the house.
How to Start Playing at a Metaverse Casino?
Ultimately these are no account casinos as you won't need to open an account in order to play. You do need to fulfill some other steps, however.
1: Buy the Cryptocurrency That You'll Need
As we mentioned earlier, you will need to have accepted tokens at the Decentralized casino as you cannot play with fiat. So the first step is to buy the tokens which can be done from the bigger crypto exchanges such as
2: Get Metamask
The second step is to install the Metamask Chrome extension. This is basically an extension wallet that you can use to hold cryptocurrencies as well as NFT's. This is how it's done:
Go to metamask.io and download it
Add the extension to your Chrome browser
Click on the Fox icon in your extensions
Follow the steps to create a wallet
Write down the seed phrase that you receive and NEVER share it with ANYONE
Buy the tokens or import from another wallet
That's it, you can now start playing at a Decentralized casino.
Metaverse Casino Sites
Decentral Games
Decentral Games is a Metaverse casino that is powered by $DG and also DAO-governed. Decentral Games allows you to play everything from Blackjack, Slot machines, Roulette and other casino games on the Metaverse. They are pretty much first to market with their casino and support some of the most mainstream blockchain tokens for deposits and withdrawals. As a player on Decentral Games, you also get rewarded with DG coins for playing their games.
Decentraland Casino
Decentraland is a completely decentralized virtual universe for social interaction and basically a Matrix of opportunities. In the middle of Decentraland, there is in fact a crypto casino where players can meet virtually and gamble together by using the token MANA.
All possible casino games can be found from Metaverse game providers such as Chateau Satoshi or Tominoya.
Pros
Decentralized Games that cannot be rigged
Low House Edge
Play to earn options
Staking options to earn more coins


Cons
Uncertain Regulations
Coins are high volatile
No customer support
Might take time for the non-crypto savvy

Summary
We'd first and foremost like to announce that this is not in any matter financial advice and that gambling on Metaverse casinos can be highly addictive.
We've gathered the information after days of research and are yet on the lookout for more information on the topic.
We find this way of social gambling very fun and different, this might be the future of online gambling but as it's still not completely regulated we'll stick to what we the online casinos that we know. We urge you to read more on the topic and do your homework before you start gambling on the Metaverse.
Last Updated on November 18, 2021 by Max Deranker