Last Updated By Max Deranker
Published
Do You Need ID to Get Into A Casino? And When If So?
So you're on your way to the casino and forgot to bring a valid ID. A staff member asks for your documents, and you've got nothing to show. What now?
Fun fact: You are not legally obliged to present any identification when entering a land-based casino.
In this article, we'll tell you all about what you need to get into a casino, why they might check your ID and how you can avoid it. We'll also tell you about the one and only exception when you need ID at the casino.
We've also updated the text with all the reasons why casinos might want to see your ID!
But First…. QUIZ TIME!
When Do You Actually Have To Show Your ID?
Correct answer
Your Answer is incorrect
Correct answer
Your Answer is incorrect
Correct answer
Your Answer is incorrect
What Is The Legal Age To Enter a Casino in Washington?
Correct answer
Your Answer is incorrect
Correct answer
Your Answer is incorrect
Correct answer
Your Answer is incorrect
Can You Gamble Online Without An ID?
Correct answer
Your Answer is incorrect
Correct answer
Your Answer is incorrect
How to Get into a Casino Without ID?
As stated, the casino staff do not have to ask for your ID at the entrance. If you forgot your ID, it is best to play it cool and simply keep walking. The gaming laws don't give the casinos legal rights to your identification.
The biggest reason why a casino asks for ID is, in fact, to make sure you're not a cheater or AP (advantage player).
Want to know what the requirements are for online casinos in terms of ID checks and verifications? Here is an article on why you need to verify your casino account.
How Do Casinos Check ID and What Do You Need To Get Into A Casino?
There are a few ways to do so if you end up in a situation where you need to validate your identification.
You will need to show one of below mentioned valid government-issued IDs:
Passport
Drivers License
State ID
Identification Card
Be aware that the documentation cannot be expired or significantly damaged.
Casino Games That You Can Also Play Online
Reasons Why Casinos Want to See Your ID
Trying to Check If You're a Known Advantage Player
As any seasoned casino player knows, the house always has an edge. But that doesn't mean there aren't ways to increase your chances of winning. However, many casinos are now onto this tactic and are increasingly meticulous about checking for so-called "advantage players." The casino staff is always looking for advantage players, or Wise guys, as they are also called.
There are a few key indicators that casinos look for. One is if you're playing at a high stakes level. Another is if you're placing large bets in a short period of time. And finally, if you're consistently winning, that's also a red flag for casinos.
Of course, none of these things necessarily mean you are an advantage player. But if you are flagged as such, it's likely that the casino will first and foremost ask for your ID and then either limit your winnings or prohibit you from playing altogether.
The Casino Wants to Ban You
The casino might ask for your ID to ban you if you've had a suspicious amount of luck. You see, the casino makes its money by getting people to gamble. The more people gamble, the more money the casino makes.
But when someone like you comes along and wins a lot of money, it eats into the casino's profits. That's why the casino would instead ban you than see you win again.
They Want You to Join their VIP Program
This might be the friendliest reason why the casino is asking for ID. The casino's VIP program is a great way to get the most out of your gambling experience. You'll enjoy exclusive access to special events, giveaways, and comps as a VIP member.
You'll also be able to take advantage of VIP-only promotions and discounts. Plus, you'll earn points for every dollar you spend, which can be redeemed for free play or cashback. You'll be asked to join the VIP program in the case of a big win or big loss.
You Look Too Young
If someone looks too young, casinos will ask to see proof of age before allowing them to get inside the casino and play. ID checks help to protect both the casino and the customer, and they help to ensure that everyone has a safe and enjoyable experience.
So next time you're at the casino, don't be surprised if you're asked for your ID. It's just part of the casino's commitment to providing a safe and enjoyable environment for all. Instead, take it as a compliment.
When Do I Have To Show my ID At The Casino?
There is only one exception when you actually need to show your ID at the casino, and that's when you win the jackpot. The government forces the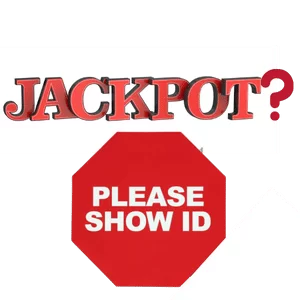 establishment to obtain your ID for potential tax reasons. Unless, the casino refuses to pay out your winning.
You can refuse, but this will most likely result in the casino not paying you the won jackpot. The rules are slightly different when you play online and why you need to verify your casino account.
Age to Get Into Casino
In order to be able to walk into the casino and gamble, you need to be at a certain age. Each jurisdiction in the world is free to set its own legal limit. So, what are the limits then?
USA: 18-21 depending on the state – (full resource)
Portugal: 21
UK: 18
Australia: 18
Macau: 18
Sweden: 18
Norway: 18
Germany: 18
Finland: 18
Holland: 18
Denmark: 16
Estonia 16
Poland: 18
Malta: Maltese citizen: 25, Non Maltese: 18
Can I Use a Fake ID at the Casino?
Using a fake ID at the casino is never recommended. If you manage to get into a casino with a fake ID and get caught, you risk legal charges and forfeit your winnings.
What Are the Verification Requirements Online?
When gambling online, you will need to send some sort of identification sooner or later unless you play at no verification online casinos. This is because online casinos risk losing their license if they fail to prove that they've taken appropriate KYC on each player.
But there are exceptions. You can read more about them in our guide to an online casino without verification.